Kathleen Florence Budge
1933-2019
This is the story of a lifetime of Kathleen Budge (nee O'Brien) who was known to most as Kathy. Born on 12th September 1933 in London to Florence and Thomas O'Brien. Kathy completed her education at Sacred Heart Convent. As a child her interests and hobbies included singing in the church choir. Kathy got her first job at British European Airways at the age of 18.
In 1954 she met Malcolm Budge. They married a year later and bought their first family home in Hampton Hill in 1956. In 1963 Kathy and Malcolm became the proud parents of daughter Jackie. The three of them spent many happy years living in Hampton Hill and also abroad in Peru.
Later in life she moved to Sydney with Malcolm and began to enjoy life with Jackie and her young family, husband Peter and daughters Rebecca and Caroline. Kathy also enjoyed making friends in her new community through playing tennis and bridge.
Grandchildren details – Rebecca and husband Christopher and sons Lachlan and Oliver.
Caroline and husband Jason and son Cooper.
Kathy lived life to the fullest, had a great sense of humour and a constant smile on her face and was never far away from her favourite tipple, A "G & T"!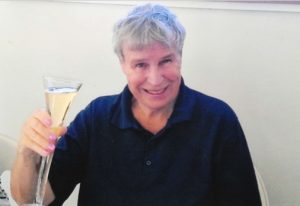 Date: Tuesday, 2nd April, 2019
Commencing: 11:00am
Location:
Family and friends of Kathleen are warmly invited to attend her Funeral Mass to be held in its entirety at St John of God Chapel, 177 Grose Vale Road, North Richmond.
View map
Share on Facebook